STAGED: Three Crimes in Three Acts

2012

performed with:
Tyler Matthew Oyer, Jonathan Kitt, Mireya Lucio, Gracie DeVito, Clay Gibson, Chelsea Yarnell, Kate Hall, Sariah Wong, Rowan Smith, and Tana Oyer

In STAGED: Three Crimes in Three Acts, I illuminate the historically specific features of a futuristic, technologically advanced environment in order to show how that environment influenced, shaped, battered and destroyed characters in a late capitalist, post-fact society. The story follows two young men who are falsely accused of crimes that are generated as the narrative progresses. Whiteface, the conflicted representative of the semi-invisible power system, controls the situation through dominant and absurd hypnoses until his/her spells are broken by an emotional song from the actual mother of one of the convicted young men. This strategy is to produce an experience of curiosity, astonishment, and shock, raising such questions as: Is that the way things are? What produced this? It's terrible! How can we change things?

Charles Gaines writes:

STAGED combines an original story that reads like a myth, dealing with issues of redemption, honor, etc., with current political issues, forming an allegorical narrative that provocatively makes linkages with these current issues with the timeless human dilemmas that is the feature of classic literature and theater. It is sort of like Abramovic meets Greek theater. The work has a convincing political dimension as it uses classical narrative to raise the moral issues involved that underscore the problems of gender, race and class.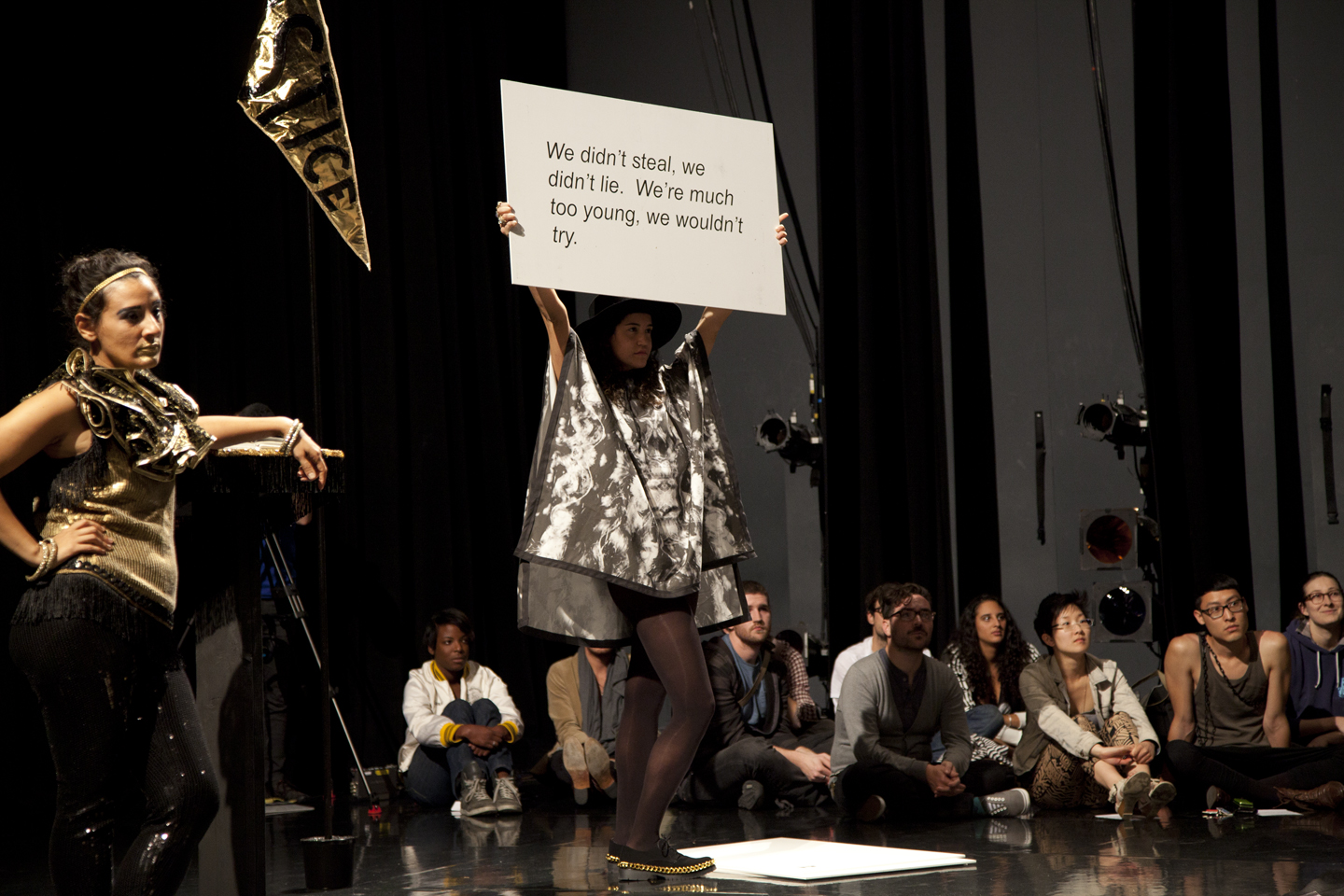 poster + book design by David Karwan
photos by Cody Edison